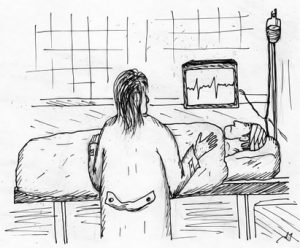 As a rule, the ICU is out of bounds for everyone. Even parents need permission to see their kids in an ICU.
The ICU or intensive care unit is for the critically ill and any disturbance can be physiologically and psychologically stressful for the patient. Outsiders are not allowed inside the premises to prevent infections. But some journalists presume they have a right to access any ICU to serve journalistic purposes and public interest.
Whenever a tragic event occurs, some journalists barge into hospitals flashing their press cards, to show patients in distress and ask seriously ill and sometimes dying patients questions such as – how they feel, or who is to blame, embarrassing the media as a whole.
This is journalism of courage by @aajtak. Heckling the nurses and doctors and creating nuisance inside a hospital award. If they show even one hundredth of this aggression in questioning politicians, then it'd be quite an achievement. pic.twitter.com/BSEyiwNnTZ

— Pratik Sinha (@free_thinker) June 18, 2019
Anjana Om Kashyap a journalist from India Today Group was criticized by the media when she was questioning the doctors in the ICU, while covering the outbreak of Acute Encephalitis Syndrome (AES) in Bihar, India.
In their pursuit to evoke sensationalism, they bother the doctors and hospital staff with frivolous questions at a time when they are busy attending to critically ill patients, endangering the lives of other patients, all in the name of journalism.
Freedom of expression is a fundamental right but should not be construed as a license to intrude into emergency wards and ICUs.
There should be clear guidelines and regulations for journalists when covering tragedies in hospitals. If journalists feel the visuals of the hospital serve a larger public interest and a greater good, then they should get them discreetly without compromising the safety of patients and without obstructing the doctors who are performing their duties. There is no denying the fact that such visuals do put pressure on the governments to respond.
It is important for hospitals to regulate themselves and deny journalists access to ICUs at all costs, as public interest cannot outweigh the critically ill patients' right to privacy and proper treatment. Information on patient conditions, deaths or any related matter should be provided by the hospital to the media to avoid misreporting.
Newsletter
Sign up for the QuackTrack.org newsletter below!