TELEMEDICINE – Diagnosis on fingertips
Imagine not having to drive down to the doctor's office or clinic and wait outside the doctor's room when you're sick. You can see your doctor from your home, from the comfort of your own bed.
Electronics and Artificial Intelligence have developed in leaps and bounds and have conjugated with every sphere of our life. Gadgetry, Computers, and information technology are veritable helplines for ensuring an enhanced quality of life.
In this renaissance of man and machine, mind and mechanics, a substantial amount of effort is directed to the use of the wonder of this science for the betterment of humankind and health management. Telemedicine and its dynamic dimensions are a representative example.
Telemedicine can be defined as an applicative branch of health and wellness management in which electronic communication is used to commute medical information from one location to another with the view of addressing the health status of patients.
This branch is of great significance to disease containment and preventive, curative, and managerial roles. The distinct advantage is the use of remote clinical services in a rapid, fault-free, and effective manner from the experts to the patients and their caregivers.
The methodology used is remote and virtual and includes medical imaging, remote disease diagnosis, and evaluations, and video consultations with specialists. These are all illustrative applications of telemedicine. The nodal process is through the transmission which is essentially in the virtual mode.
As this science developed, an organized classification unfolded. Today the realms of telemedicine and in fact, telehealth as a whole, are projected in a manner that there are two aspects of telemedicine: synchronous and asynchronous.
The synchronous mode is a real-time methodology to provide a bridge between the practitioner and the patient, using the digital format. In the asynchronous method of telemedicine, both remote and real-time tools are used to provide effective relief to the patient.
As a matter of interest, there are various types of telemedicine. The following are some facets worth mentioning.
The most common is Real-time Telemedicine. This method of operation of telemedicine sometimes referred to as live telemedicine a branch that makes it easy to do a doctor-patient visit anytime, anywhere, and offers effective healthcare.
An extremely useful tool in the wake of the present pandemic is a procedure in telemedicine namely, Remote Patient Monitoring. Other methods of remote medicine include 'Store-and-Forward' practices, related to medical data management, consultation between specialists and primary caregivers, telemedicine networks, and medical imaging to name a few.
Today research and development of innovative techniques in microsurgery, pediatric health management, and genetic counseling are going to tell success stories in Medicine in the future. According to some reports Telemedicine and telehealth market is projected to reach $285.7 billion by 2027 from an estimated $87.8 billion in  2022.
Teleradiology
Teleradiology refers to the transmission of radiological patient images, such as x-rays, CTs, and MRIs, from one location to another for the purposes of sharing and interpretation with other radiologists and physicians who are not physically present in the location where the images are generated. All noninvasive imaging studies, such as digitized x-rays, CT, MRI, ultrasound, and nuclear medicine studies, can be carried out in such a manner.
Teleradiology utilizes standard network technologies such as the internet, telephone lines, wide area network, local area network (LAN) and the latest high tech being computer clouds. Specialized software is used to transmit the images and enable the radiologist to effectively analyze what can be hundreds of images for a given study. Technologies such as advanced graphics processing, voice recognition, artificial intelligence, and image compression are often used in teleradiology. Through teleradiology and mobile DICOM viewers, images can be sent to another part of the hospital, or to other locations around the world
Let us summate with the distinct advantage in this Medical practice. They definitely include practical considerations like no transportation time or costs, the convenience of elder care, and child care aspects. In addition, the options for treatment are tailormade with ready access to experts. Moreover, there is less downtime in the implementation of the treatment. Cross infection chances are scarce and there is no need to take time off from professional commitments.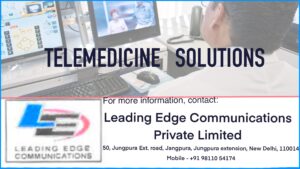 Telemedicine devices available commercially include machines that have both visual and audio recording facilities. This branch of clinical and healthcare practice definitely conjugates the scientific aspects of medicine and the superior advantage of computer and information technology to ensure inexpensive, effective, and better health care for all.
The author acknowledges the use of authentic medical literature to structure this article.
Newsletter
Sign up for the QuackTrack.org newsletter below!